Professional Carpet Cleaning Fairfax VA: Steam Cleaning
We Use The Best Carpet Cleaning Method Preferred by Carpet Manufacturers!
Over time, the carpet in your home can accumulate dirt, allergens, and other household debris, resulting in stubborn stains and unpleasant odors. Most carpet manufacturers recommend hot water extraction, also known as steam cleaning, as the most effective method for cleaning carpets and removing allergies.
Our carpet steam cleaning services safely extracts deeply embedded soil from your carpets. We use a pre-spray solution to loosen dirt and break down oils embedded into your carpet fibers, making it an effective method for stain removal.
It's important to note that not all carpet steam cleaning techniques are equal. Some methods can leave soap or detergent residue, contributing to soil wicking from older stains and attracting more dirt over time.
At Lustre Clean, we prioritize using state-of-the-art organic, hot water rinse solution that emulsifies dirt and harmful residue from your carpet fibers, extending the life of your carpet. Our powerful scrub and extraction methods lift soil and residue efficiently, resulting in a deep and thorough cleaning with a fast dry time.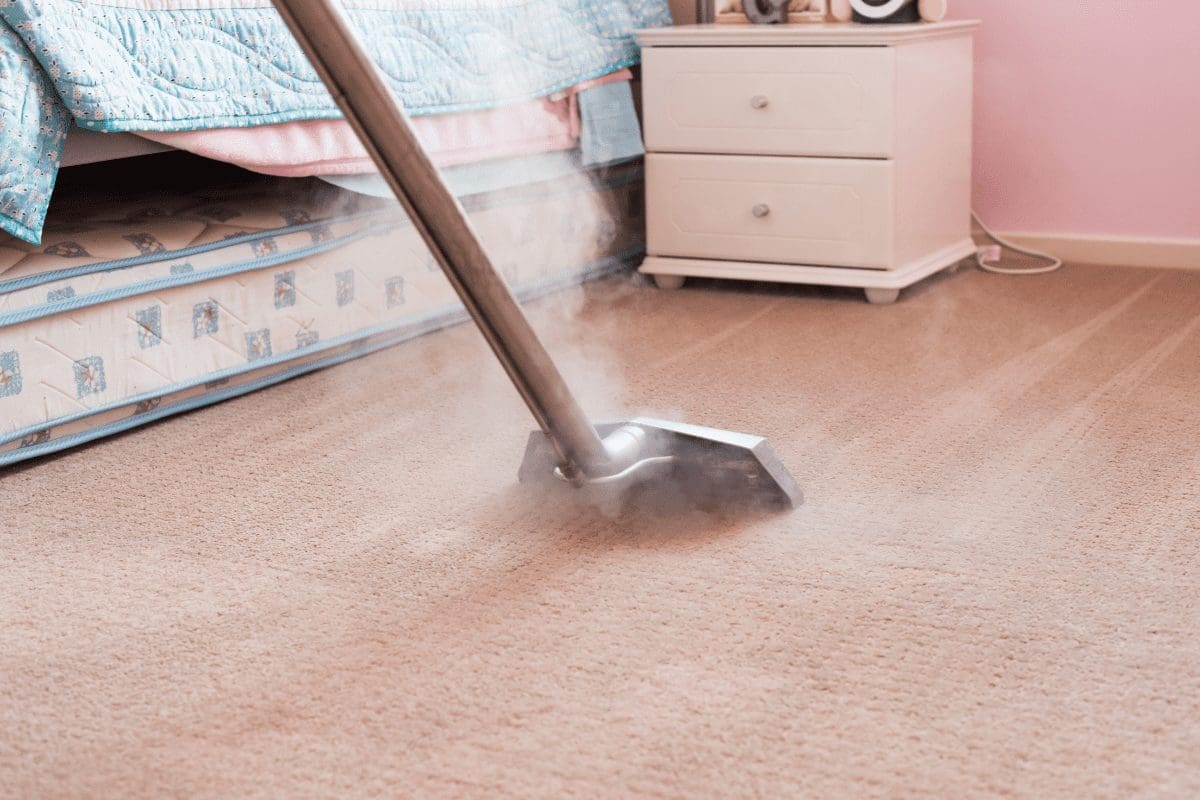 Reasons for Our Customers' Loyalty
We have been carpet steam cleaning Fairfax, VA homes since 1975. Our priority is to ensure customer satisfaction by providing exceptional customer service and unmatched carpet steam cleaning expertise. If you're looking for reliable and professional DMV carpet cleaning services, look no further than our team serving the Northern Virginia and Washington, DC area.
Our cleaning approach prioritizes eco-friendliness through hot water extraction to eliminate household stains, pet urine, and natural oils from carpets. Our team of expert carpet steam cleaners in Fairfax, VA, assures you of completely removing tough stains, odors, and allergens without any damage or residue left behind. Rest assured that our efficient cleaning methods are safe for you and the environment.
High-Quality Carpet Steam Cleaning Equipment
Our company utilizes the Butler System, widely regarded as the industry's leading technology for professional carpet cleaning and certified by the Institute of Inspection Cleaning and Restoration Certification (IICRC). Using advanced hot water extraction techniques and eco-friendly cleaning solutions, we can eliminate dirt, contaminants, and bacteria from your carpets, resulting in a cleaner and healthier environment for you and your family.
Affordable Carpet Steam Cleaning Fairfax VA
Lustre Clean believes in professionalism and that your family's safety and well-being should never be a luxury. That's why we offer a range of tailored cleaning solutions that can be purchased individually or bundled at a discounted price, allowing you to save money while keeping your home clean and safe.
#1 Carpet Steam Cleaning Fairfax VA

Our Products
Our cleaning products are safe and natural, including our detergent solution for carpets. We prioritize your family's wellbeing, using only products that are safe for children and pets. Our solution is also effective in removing mildew from carpets, ensuring a clean and healthy home environment.

Removing Water
Quickly removing water from your carpet is essential for efficient cleaning. Our reliable services prioritize the safe removal of dirt, stains, and water to minimize foot traffic on wet carpets so your carpets dry fast, leaving you with a clean and healthy home.
Accurate Arrival Times
We offer a two-hour arrival window for carpet cleaning appointments and confirm details on the day of the appointment. We keep you informed when we are en route to your home.
Careful Carpet Steam Cleaners
As part of our carpet cleaning service, we also offer floor cleaning, and we treat your home with the utmost respect, just as we would treat our own. Although we must bring our equipment inside, we exercise great caution to ensure that walls and baseboards remain unscathed. Additionally, we use a special door cover to keep insects and other elements at bay while we clean instead of leaving the door open. We also take extra care when cleaning the basement carpet to ensure that it is thoroughly cleaned without causing any damage to the surrounding area. Our flooring cleaning service is designed to leave your floors looking brand new and free of dirt and grime.
We understand that pet odor can be a persistent problem in your home, especially when it comes to mold. Our solutions for odor and pet urine treatment, including pet odor removal, are designed to effectively neutralize unpleasant smells without resorting to harmful or harsh chemicals. Contact us to learn how we can help you get rid of pet odor for good. Our pet-safe cleaning treatments can break down urine and leave your carpets looking and smelling fresh. 
Looking to remove stubborn carpet stains?
With years of experience, our carpet steam cleaning services for carpets effectively penetrate deep into the fibers, lifting and removing stains to prevent them from reappearing. The result is a thoroughly cleaned carpet.
In addition, we offer various other services: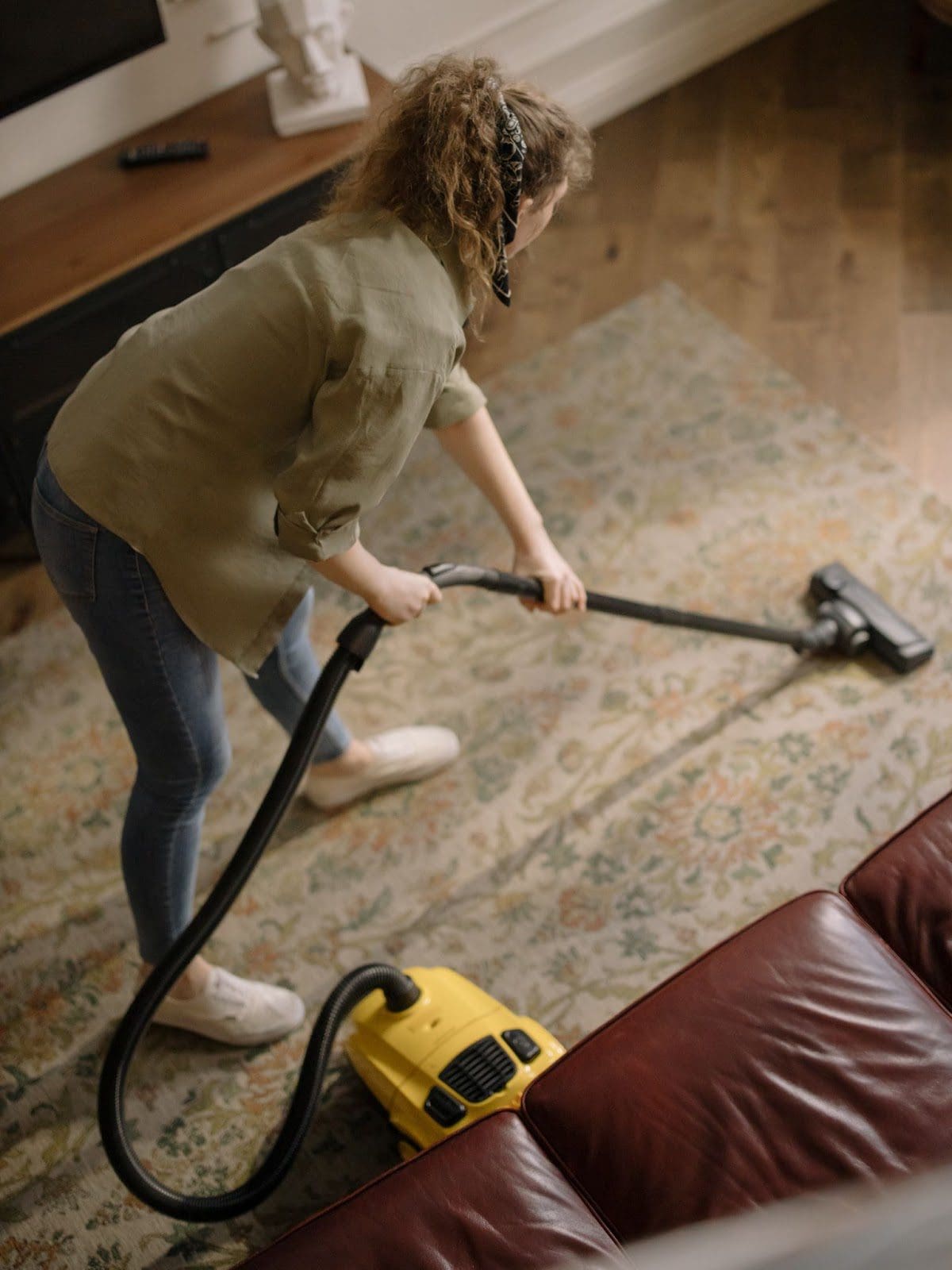 FAQs About Our Carpet Cleaning Service in Fairfax VA
Our clients frequently have questions about our steam cleaning and carpet cleaning services. Here are some of the most common inquiries we receive.
Do you use harmful chemicals?
Our cleaning solutions are safe for humans and pets. They are eco-friendly and gentle on the environment, made from organic sources.
How long will my carpets take to dry?
The duration of the cleaning process varies between 4 to 6 hours, depending on the humidity level, airflow, and the extent of soiling. Our cleaning technique involves extracting most of the moisture, leaving your carpet slightly damp to the touch. If you have any concerns regarding the drying time, feel free to inquire about faster drying options.
What's the difference between a carpet cleaning rental and professional steam cleaning?
If you're looking to thoroughly clean your carpets, it's important to keep in mind that consumer-grade equipment such as a carpet shampooer, Rug Doctor or Bissel may not do the trick. These machines lack the necessary power and extraction capabilities to fully remove dirt and moisture, often leaving behind cleaning residue that can actually attract dirt more quickly. Additionally, without proper extraction, carpets may remain damp for too long, which increases the risk of microbial growth.
What information should I provide about my carpet?
Please feel free to share any concerns you may have about your carpeted areas, such as high-traffic spots, pet stains, odors, soil filtration, and specific problem areas. This will help us provide the best service possible, tailored to your needs. We want to make sure we understand the condition of your carpet beforehand, so that we can provide you with optimal results.
How do I prepare for my service appointment?
In order to ensure a thorough cleaning, it is important that the areas to be cleaned are free of debris and clutter. If you have any light furniture that you would like us to move prior to cleaning, please let us know. While a light vacuum is recommended, it is not required, especially if you have pets.
Can you work around my pets?
Pets are dear to us, just as they are to you. During carpet cleaning services, our team requires unfettered access to transport and manage our cleaning equipment. To ensure a smooth appointment, kindly make arrangements for your pets.
What areas do you service?
We offer cost-effective and top-notch carpet services to clients residing in Aldie, Ashburn, South Riding, Chantilly, Fairfax, Haymarket, Gainesville, Middleburg, Leesburg, Centreville, and other Northern Virginia regions.
What are the benefits of using a carpet cleaning machine?
Using a carpet cleaning machine offers numerous benefits. It deep cleans carpets, removing dirt, stains, and allergens. It also helps to prolong the lifespan of carpets, improves indoor air quality, and eliminates odors. Additionally, it is a cost-effective alternative to hiring professional carpet cleaners.
Lustre Clean can clean your carpets using steam cleaning. We use advanced technology to make sure your carpets are clean and in good condition. You can trust us to restore your carpets to their original state.